Teeth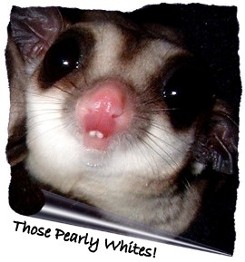 Awww, that super cute 'buck-toothed' look... dont ya' love it?! :-)
In the wild, the Sugar Glider uses its sharp incisor teeth to gouge holes in trees to expose the sugary sap and uses its tongue to lap nectar from blossoms. Gliders have 40 teeth, and unlike rodents, Gliders teeth DO NOT continue to grow. Gliders are generally sap suckers by nature. They will chew/suck the good stuff out of most of their food and spit out tiny crescent shaped pieces. If you watch them eat, you will see them do this, its perfectly normal. (Gliders can, and will eat some things though, and devour the whole thing, if its something they really like. ;-) Which I find totally amazing since their throats are about the size of a toothpick.) Their top two front teeth, and their bottom two front teeth, are the big sharp ones you gotta' watch for (remember, these are the ones that gouge holes in trees? ;-). The rest of their teeth are not quite as sharp (or big! LOL!).

* If you notice that your Glider's not eating (or having trouble), has any swellings or abnormalities around/in the mouth/jaw, its best to have an experienced Vet take a look to see if there is a problem. (Glider's can get cavities too!) Never let a Vet cut/file down the teeth... there have been some that have done this out of ignorance.)
Click on the photo to enlarge...
Show me some teeth!






~~~~~~~~~~~~~~~~~~~~~~~~~~~~~~~~~~~~~~~~~~~~~~~~~~~~~~~~~~~~




Tongue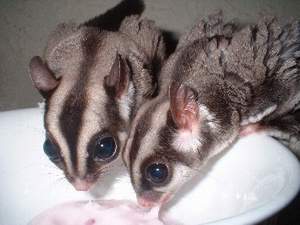 The Glider's tongue is pretty long, and soooo soft. They use their long pink tongues to lap nectar from blossoms in the wild, as well as to help chew/mash their food. If you watch them eat, alot of times you will see them spit out tiny crescent moon shaped pieces... this is from using their tongues to push the food up against their front teeth, to help squeeze out the 'juice', whats left is basically the 'pulp' that you see them spit out.